Want to call a corner of the world your own? With Construction, the Sands of Creation expansion, and a VIP membership, you'll be able to buy property and construct a house or guild hall. Turn it into whatever you desire; a spacious retreat, a cottage full of treasures, or perhaps a place to hold secret council…
---
Floor Plans
You can choose from one of 12 player homes or 4 guild halls of varying size, features, and cost. There are four types of plots:
1×1
1×2 (Horizontal)
2×1 (Vertical)
2×2 (Guild Halls only)
---
Construction
You'll need several materials to build a home: gold, logs, iron ore, cinderblocks, wood joists, door framings, and other kinds of structural supports. You can gather or craft all materials required to build – or find a friend with high level carpentry and blacksmithing to help you out!

---
Decorating
The most fun part of owning a house or hall is decorating it! Rugs, banners, suits of armor, crafting equipment, ovens, kegs, portals, and dozens of other items can be crafted. We also offer several themed house packs – Valentine's, Halloween, Christmas, and the Wizard's Tower.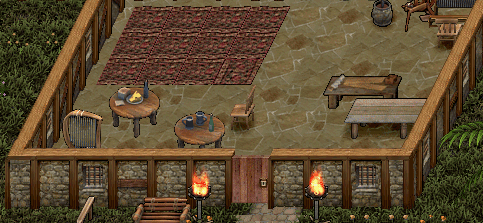 ---
Guide
A complete guide to Construction can be found in the Guides section of the website. It covers each floor plan and everything you'll need to know to break ground on your first home!